The Victorians who first pushed steam chic into the front pages of the vogue magazines knew how to turn a quickie escape to the beach by the sea into a private and steamy hot affair. They invented the boudoir on wheels.
Today, our beach bums walk around hiding behind a limp surf board... meanwhile in the eighteen hundreds, people accessorized their bare thread essentials with class: they had the steam powered bathing machine to improve the coolness of their beach wear and assorted swimming trunks. Later on, history shows that the invention of the hot bikini swimsuit makes modern bathing a steaming splash for a whole new set of reasons; so much for being nostalgic about the good old times.
What's a bathing machine?
--Nothing more than a glorious fitting room built on wheels so that it may be pushed straight into the surf water. It was an essential part of sea-side outings as the cabins were needed for the fancy dressing-up part with changing into the proper swimming attire - whatever that may have been, wink wink. Simple machines could be merely rolled into the strand with the help of an attendant called a dipper. More often, it took the power of a horse to get loose from the wet sand while the best hobnobs provided a steam powered winch that could yank the privacy seeking bathers right out from the waves and back to the safety and decency of the firm ground.
In music, listen to Britannia rules the waves, it's music for undressing and for showing off a bit naked pride. It came in the time of steamships and stuff, meanwhile, the French were inventing the subversive bikini. Oh behave.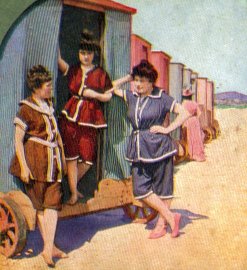 Back to business now --
Perhaps a steam powered bathing machine is not what you need right away, however there are many gadgets to transform your ordinary shower into a therapeutic steam spa. Steam is good.
Please get in touch with any needs you may have or any remodel idea you would like to develop. Put steam in your bathroom with the steam shower. Put steam in your kitchen with some small sized commercial grade equipment.
Thanks for reading along.